Human - Robot Interaction
Not every robot looks like a human
Not every robot looks like a human
Do you think robots have to look like humans? Think again. The picture below shows robots that are currently being developed in Pittsburgh. The investigator working on these, Zeynep Tempel, took some inspiration from nature. More specific these tiny robots are modeled after a specific species of Ants. Even though they look nothing like these ants there movements, like jumping in all directions, are inspired by the way these ants move around.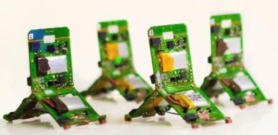 These insect-like robots are not the only tiny robots being developed. A Swiss company is developing a robot called 'Mori'. Which is meant to be used in large quantities, which allows all the tiny robots to work together. Quite like the Nano-Bots, you might have seen in Big Hero 6. The big advantage over one big robot is the fact that by reordering these bots can perform a wide variety of tasks. Which can be useful if the available space is limited. In space for instance.
Robots can take various shapes and sizes. From very small as we just have seen, to much bigger like automated cars. Then everything with some electronics could be a robot, right? We asked some experts in robotic for their opinion on this. They all agreed that not every machine is a robot. One much-heard reaction on what does make a robot was that it is an ongoing discussion that can be conducted for every machine. A statement made by professor Stingel from Princeton University, amongst others.
A more concrete definition is given by Radner Brooks, who is the creator of the Rumba®, robot vacuum. He states: "A robot is a device that interacts with its surroundings in 3 steps."
Sensing the surrounding by means of a (variety of) sensor(s)
Processing/'thinking' about the input it gets from these sensor(s)
Giving the appropriate reaction to affect and/or change something in the real world.
Especially point 3 is very important according to mister Brooks. Since this makes a dishwasher, for instance, a machine and not a robot. It does not matter how dirty your dishes are, if you set a certain program it will finish that program. Not caring if your plate is clean at the end of that program. While a robot would check if it is clean and clean it again if need be. But you do well to remember that there is no final definition.
The first 2 aspects of the definition might not be immediately clear. With sense, we mean that the robot detects the environment around itself. This can be done by using a camera or a microphone which are the eyes and ears of the robot. But some can also sense its surroundings in ways we as humans can't such as GPS or Night vision. Al these signals are processed in the brain of the robot, which is not literally a brain like you have. But more a combination of chips and cables (hardware) and the programming (software) Programming can be done by the creator beforehand, but some advanced robots change their programming when they learn from certain situations. This allows them to give the proper response to situations not predicted by the creator.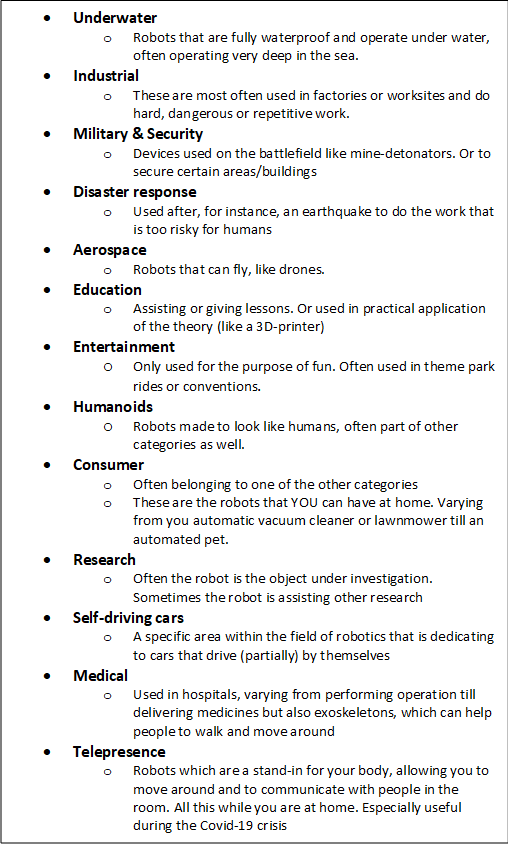 With new robots like a robot butler dangling from the ceiling by Toyota and a squid-like robot diving in the deepest oceans, robots are more versatile than ever. In order to keep it clear, robots can be classified into different categories. These categories are based upon the functions they are able to perform. Is there just one list? Again, no, but the following list is created by the experts of IEEE. Which might sound like a scream, but stands for Institute of Electrical and Electronics Engineers. An organization with specialists in robotics. Categories vary from humanoids, which are robots like C3-PO in star wars, to aerospace, robots that fly.
One example of an Aerospace robot is developed by the University of Twente.They recently received 1,6 million euros to further develop their robot that resembles a Bird. Which can be used to scare away real birds.
Robots will likely take a more prominent role within our lives. More and more different robots are created. With all the information above you might spot more robots around you than you might have thought.