Sustainable products
How menstruation can cost less
By Iris Don
Ever get tired of how much tampons cost you each month? What if there was a safe, sustainable, and considerably cheaper alternative? This article will discuss everything you need to know about the menstrual cup, focusing on the pros and cons compared to other products. The menstrual cup is a small medical-grade silicone cup, that you can insert just like a tampon. It can catch more blood than one tampon does, which means you don't have to change it up as often as a tampon.
So how does it work precisely? To use the cup, one first folds it to make it smaller and manageable. In that way the cup can be inserted. Because of its silicone elasticity, it will open itself in your vaginal canal and no blood will be able to get past it anymore because of the suction to the vaginal walls. Even when the cup is full it cannot overflow, so say goodbye to awkward leaks! A woman I spoke with who uses the cup, said: "I'm a superfan [of the cup] because I can leave it in all day, so I don't have to think about it at all".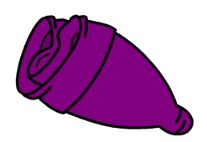 A schematic drawing of a folded menstrual cup, ready for insertion
An additional advantage is the material used. Tampons are meant to act like sponges, sucking up all liquids, even the natural moistness of your vagina. Many women occasionally experience some pain while inserting or extracting a tampon because of this. This is not a problem with the cup, because it only catches the liquids, but is not in itself an absorbent. I spoke with Dr. Annemieke van Eijk, who has worked as a doctor in Africa, and now writes literature reviews on menstrual health. "The cup is more vagina-friendly compared to tampons".
Between uses, you can clean the menstrual cup with water. At the end and beginning of your period, you can boil the cup in water to make it sterile.
History
The cup has been on the market since the 1930s, but only became popular in the 2010s, when the cups started to get made of medical-grade silicone. Now the cup is readily available online from many companies. The Food and Drug Administration has approved specific menstrual cups, so make sure to look at what brand you buy. According to Dr. van Eijk, regulations should be set up, to ensure the quality of the cups. Right now, the market still allows all kinds of cups, also ones that have not been properly researched.
In addition, it is difficult to find enough funding for proper research, or get articles about menstrual cups published. "The science of women's health is unfortunately still in its infancy, and better-quality research is necessary."
Research
But is it safe to use, you ask? That's the good news, it is! Studies show that menstrual cups are safe to use, and many women are enthusiastic about them. A 2013 study among users in South-Africa showed that, after three months, 90% of participants said they would likely keep using the cup. The research, of whom Prof. Mags Beksinska is the head author, was funded by the Bill and Melinda Gates Foundation. This study also showed that compared to tampons and pads, the menstrual cup was preferred by comfort, quality and blood-collection, with ratings increasing during the use period.
A different study among Canadian women, funded by Research and Education Foundation of the College of Family Physicians of Canada, showed similar results. It showed that after women had overcome the hurdle of learning how to use the cup, they were very satisfied and would recommend it to others. The previous study also shared this result.
The methods of these studies were primarily to interview women about the use of the cup. But Dr. van Eijk says it is important that other methods are also used, to improve their quality. "It would be good if the research included measurements of the vaginal biome for example, instead of only conducting interviews".
And what about toxic shock syndrome? This is a serious illness associated with extra absorbent tampons. Dr. van Eijk says that yes, it is possible that the bacteria associated with toxic shock can grow on the cup. However, the risk of this seems extremely low.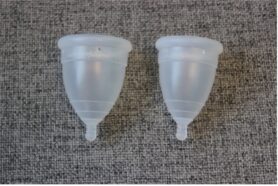 Menstrual cups in two different sizes
Cheap
Now that you know the cup is an alternative to the tampon, why not look at how it is also cost-efficient. The biggest difference between the menstrual cup and a tampon or sanitary pad is the amount of usage. A tampon is usually a one-time use product, while the menstrual cup can last for up to ten years.
In the table you can see your estimated savings if you buy a new cup every ten years. The number of tampons and pads is estimated to be about 20 per period. A box of 16 regular OB tampons costs €2,89, and 28 regular size pads cost €4,99. Menstrual cups are available from many different companies, and their prices vary widely. Let's say you would pick a middle-of-the-road cup, you are looking at a menstrual cup for about €24,-. This means that after 7 months of cup use, you start saving money compared to one-time products. In ten years, you will have saved literally hundreds of euros.
Tampons/Pads
Cup
Use over time
Price (€)
Use overtime
Price (€)
1 month
3,61
1 month
24
7 months
25,27
7 months
24
5 years
216,6
5 years
24
10 years
433,2
10 years
24
Table showing cost of tampon and pad use compared to cup use. Pads and tampons are comparable in price if you adjust for quantity.
In addition to being a cost-efficient method to deal with your period, the menstrual cup is also a sustainable alternative to tampons and pads. So in addition to the cup being safe and cheap, you also help out earth a little by using it!
Disadvantages
But aren't there any disadvantages of the menstrual cup? Dr van Eijk: "The biggest disadvantage of the menstrual cup is the learning curve. This is especially so if women are already familiar with a disposable product, because they feel no need to switch". Both the studies mentioned above and the cup-users interviewed agree that it indeed takes some time before you understand what you're doing down there.
Your choice
It in unknown what percentage of menstruators use what kind of period products in the Netherlands. However, alternatives to tampons are on the rise. Many people are currently choosing for a sustainable alternative. So if you like what you read, you can check out products similar to the cup, like reusable pads, and period underwear.
Using the menstrual cup instead of tampons has many advantages: a period is less of a hassle; it is cheaper and more sustainable. But whatever product you choose, making an informed decision will now be easier. Dr. van Eijk: "It is important for a woman to know all her options.
References
Always Ultra Maandverband Normal Maat 1 Met Vleugels 28 stuks. (z.d.). Etos. Geraadpleegd op 14 oktober2021, van https://www.etos.nl/producten/always-ultra-maandverband-normal-maat-1-met-vleugels-28-stuks-120146291.html
Beksinska, M. E., Smit, J., Greener, R., Todd, C. S., Lee, M. L. T., Maphumulo, V., & Hoffmann, V. (2015). Acceptability and performance of the menstrual cup in South Africa: a randomized crossover trial comparing the menstrual cup to tampons or sanitary pads. Journal of Women's Health, 24(2), 151-158.
Beksinska, M., Smit, J., Greener, R., Maphumulo, V., & Mabude, Z. (2015). Better menstrual management options for adolescents needed in South Africa: what about the menstrual cup?. SAMJ: South African Medical Journal, 105(5), 331-331.
Bolen, J. (2021, 15 januari). FDA Approved Menstrual Cups | Safe Menstrual Cups. Reusable Menstrual Cups. Geraadpleegd op 3 november 2021, van https://reusablemenstrualcup.com/menstrual-cup-faqs/fda-approved-menstrual-cups/
Borunda, A. (2021, 3 mei). How tampons and pads became unsustainable and filled with plastic. National Geographic. Geraadpleegd op 3 november 2021, van https://www.nationalgeographic.com/environment/article/how-tampons-pads-became-unsustainable-story-of-plastic
Can I use a cup with a heavy period? (2021, 8 september). AllMatters Knowledge Base. Geraadpleegd op 3 november 2021, van https://allmatters.helpscoutdocs.com/article/13-use-cup-heavy-period
Howard, C., Rose, C. L., Trouton, K., Stamm, H., Marentette, D., Kirkpatrick, N., … & Paget, J. (2011). FLOW (finding lasting options for women): multicentre randomized controlled trial comparing tampons with menstrual cups. Canadian Family Physician, 57(6), e208-e215.
NOS. (2017, 8 juli). Cupjes of wasbaar maandverband: deze vrouwen vertellen waarom. Geraadpleegd op 3 november 2021, van https://nos.nl/op3/artikel/2182111-cupjes-of-wasbaar-maandverband-deze-vrouwen-vertellen-waarom
o.b. ProComfort Tampons Normal. (z.d.). Etos. Geraadpleegd op 14 oktober 2021, van https://www.etos.nl/producten/o.b.-procomfort-tampons-normal-112167833.html
OrganiCup Menstrual Cup – Shop. (2021, 2 november). AllMatters. Geraadpleegd op 3 november 2021, van https://www.allmatters.com/product/menstrual-cup/
Sommer, M., Kjellén, M., & Pensulo, C. (2013). Girls' and women's unmet needs for menstrual hygiene management (MHM): the interactions between MHM and sanitation systems in low-income countries. Journal of Water, Sanitation and Hygiene for Development, 3(3), 283-297.
van Eijk, A. M., Jayasinghe, N., Zulaika, G., Mason, L., Sivakami, M., Unger, H. W., & Phillips-Howard, P. A. (2021). Exploring menstrual products: A systematic review and meta-analysis of reusable menstrual pads for public health internationally. PloS one, 16(9), e0257610.
Van Eijk, A. M., Zulaika, G., Lenchner, M., Mason, L., Sivakami, M., Nyothach, E., … & Phillips-Howard, P. A. (2019). Menstrual cup use, leakage, acceptability, safety, and availability: a systematic review and meta-analysis. The lancet public health, 4(8), e376-e393.
Zulaika, G., Kwaro, D., Nyothach, E., Wang, D., Zielinski-Gutierrez, E., Mason, L., … & Phillips-Howard, P. A. (2019). Menstrual cups and cash transfer to reduce sexual and reproductive harm and school dropout in adolescent schoolgirls: study protocol of a cluster-randomised controlled trial in western Kenya. BMC public health, 19(1), 1-14.
Images used
Folded menstrual cup by: Miia "Myrtti" Ranta – CC BY-SA 3.0, https://commons.wikimedia.org/w/index.php?curid=277278
Two sizes menstrual cup by:  Errikaboo – Own work, CC BY-SA 4.0, https://commons.wikimedia.org/w/index.php?curid=50629870