A plant-based diet
Plantaardige vleesvervangers, gezond of ongezond?
Kipstuckjes, Knakwortel, Boonnuggets, Biekstukc en niet te vergeten de Beyond-Meat Burger. Tegenwoordig kan je geen vleesproduct noemen of er bestaat wel een plantaardige variant van. Deze vleesvervangers zijn namelijk een stuk duurzamer en diervriendelijker. Ook smaken ze in de meeste gevallen gewoon erg lecker! Maar… betekent duurzaam ook gezond? De vleesvervangers vallen namelijk in de categorie 'ultrabewerkte producten' in een internationale classificatie van voedingsmiddelen. Dat is rede tot twijfel. In dit artikel geeft voedingskundig expert Prof. Dr. Tiny van Boekel van de Universiteit van Wageningen antwoord op de vraag of plantaardige vleesvervangers ook goed zijn voor de gezondheid.
Nederlanders willen minder vlees eten, om redenen variërend van dierenwelzijn tot milieubewustzijn. Het kookgemak van plantaardige vleesvervangers maakt deze erg populair. Daarnaast zit er veel ontwikkeling in deze producten en vleesimitaties worden steeds beter, zowel in smaak als structuur. Over de gezondheid van deze producten valt echter nog te twisten, ze krijgen namelijk het label 'ultrabewerkt', volgens de NOVA-classificatie. Dit is slecht nieuws, want van ultrabewerkte producten wordt aangeraden zo min mogelijk te eten.
Deze plantaardige vleesvervangers zijn namelijk industrieel bewerkt en dit zou een negatief effect op de gezondheid kunnen hebben. Om te begrijpen wat dit betekent kunnen we het voorbeeld nemen van appels en appelmoes. Appelmoes is een bewerkte versie van een appel. Appels zijn tot moes gestampt en daarbij 'bewerkt'. Het effect van zo'n bewerking is dat het je lichaam minder moeite kost om het product te verteren. De structuur van de appel is namelijk al voor je kapot gemaakt tijdens het stampen. Je verteert de appelmoes dus sneller dan de appel. Hierdoor krijg je dus weer relatief snel honger en ga je sneller weer iets eten. Door dit laatste feit wordt het eten van veel bewerkte producten vaak gelinkt aan obesitas en overgewicht. De NOVA-classificatie classificeert producten van onbewerkt (1) tot ultrabewerkt (4). Vleesvervangers vallen onder de ultrabewerkte producten en het advies van de NOVA-classificatie is om zo min mogelijk bewerkte producten, en dus zo min mogelijk vleesvervangers, te eten.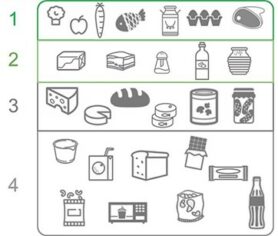 Nova-classificatie: van onbewerkt (1) naar ultrabewerkt (4), met voorbeelden van producten. Vleesvervangers vallen onder de ultrabewerkte producten (4). Figuur van https://degezondheidswinkel.be/blog/dikke-darmkanker-bewerkte-voeding/#gref. 
Zijn vleesvervangers dan ongezond?
Een stukje vlees uit de supermarkt valt in de eerste categorie van de NOVA-classificatie, namelijk onbewerkte producten, terwijl plantaardige vleesvervangers in de vierde categorie, namelijk de ultrabewerkte producten, vallen. Volgens de NOVA-classificatie is een stukje onbewerkt vlees dus veel gezonder dan een plantaardige vleesvervanger.
Zo simpel is het echter niet, zegt expert Tiny van Boekel: ''Er valt namelijk nogal wat af te dingen op het nut van deze classificatie, met name op de suggestie dat bewerken de bron van alle kwaad is.''. De voedingswaarde van vleesvervangers zit hem namelijk in de eerste plaats in de eiwitten die de plantaardige vleesvervangers bevatten. Doordat je het stukje vlees niet binnenkrijgt is het belangrijk dat je alsnog aan je dagelijkse behoefte van eiwitten komt. Dit kan door middel van plantaardige eiwitbronnen, zoals bonen, noten, erwten, linzen of granen, die aan de basis staan van de vleesvervangers. Bewerkingen gaan, aldus Tiny van Boekel, niet ten koste van deze voedingswaarde. Dus je kunt gerust zijn. Je kan je dagelijkse hoeveelheid eiwit prima binnenkrijgen door middel van een plantaardige vleesvervanger. Dat is veilig en net zo gezond als het eten van een stukje vlees.
Het eten van vleesvervangers als eiwitbron is dus gezond maar volgens van Boekel kan een gezondheidsaspect van vleesvervangers nog wel verbeteren: het zoutgehalte. Dat moet flink naar beneden. Zout is er om smaak te geven aan het product, maar over het algemeen zit er teveel zout in vleesvervangers. Collega's van van Boekel doen actief onderzoek naar andere manieren op de producten smaak te geven, waarbij er minder zout hoeft worden toegevoegd.
Een ander gezondheidsaspect van de bewerkte vleesvervanger dat volgens van Boekel nog beter kan is het behoud van de vezels in het product. Het binnenkrijgen van vezels is belangrijk voor je vertering. Helaas gaan de vezels die in de plantaardige bestandsdelen van vleesvervangers aanwezig zijn grotendeels verloren bij het proces van verwerking. Feit is wel dat vlees ook geen vezels bevat. De vleesvervanger doet hier dus niet onder voor het stukje vlees. Wel zou het mooi zijn als de vleesvervangers in de toekomst dit extra gezondheidsaspect, namelijk een rijkdom aan vezels, zouden kunnen behouden.
Als je zeker wilt zijn dat je voldoende vezels en niet teveel zout binnenkrijgt, is het op dit moment het verstandigst om onbewerkte vleesvervangers, zoals linzen, bonen, noten, erwten of granen te eten. Het enige waar je met deze producten op moet letten is dat je voldoende eiwit en vitamine B12 binnenkrijgt. De gemiddelde dagelijkse behoefte aan eiwit voor een volwassene is ongeveer 0.8 gram per kilogram lichaamsgewicht. Wat omgerekend 56 gram is, voor een persoon die 70 kilogram weegt. Zo zou je dagelijkse behoefte aan gekookte kikkererwten, die 19 gram eiwit per 100 gram bevatten, uitkomen op een kleine 300 gram kikkererwten. Maar, zoveel hoef je er niet van te eten! Er zit namelijk ook al eiwit in veel andere producten die je door de dag heen eet, zoals in brood. Wat verder goed is om te weten is dat Nederlanders over het algemeen ruim genoeg eiwitten binnenkrijgen, zo blijkt uit peilingen van het RIVM. Onbewerkte vleesvervangers zijn dus een makkelijke vervanging van vlees en zelfs nog een stapje gezonder dan bewerkte vleesvervangers.
Al met al zijn verwerkte plantaardige vleesvervangers dus zeker niet per definitie slecht voor je gezondheid. Zolang je maar oplet dat je niet teveel zout en genoeg vezels binnenkrijgt. En wil je zeker zijn van een gezonde maaltijd, kook dan met onbewerkte vleesvervangers!