Slaap
Zo houdt je telefoon je (niet meer) wakker
Lukas Graff 
Het leek zo mooi: de blauw-licht filters die ineens op alle computers en smartphones verschenen. Je drukt 's avonds op een knop en je schermlicht krijgt een oranje tint, waardoor nachtelijk schermgebruik je niet meer uit je slaap houdt. Maar helaas wijst recent Amerikaans onderzoek naar het blauw-lichtfilter op
 

smartphones er niet op dat ze daadwerkelijk effectief zijn. Betekent dit dan dat je 's avonds helemaal geen schermen moet gebruiken als je goed wil slapen? Gelukkig niet! Onder de juiste omstandigheden kan schermgebruik zelfs helpen om je nachtrust te verbeteren, wijst Nederlands onderzoek uit.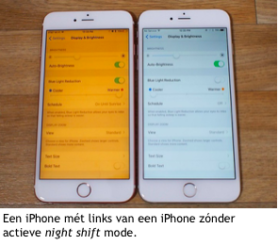 Smartphones en computers hebben een slechte naam als het om een goede nachtrust gaat. Je hebt zelf vast wel eens ervaren dat je minder goed in slaap valt, wanneer je de hele avond die apparaten gebruikt. Dat effect wordt door meerdere onderzoeken bevestigd. Ook de producenten van deze apparaten hebben dat door, dus hebben ze op basis van wetenschappelijke kennis een oplossing gezocht.
Het ligt voor de hand dat ze deze oplossing zochten in het licht dat beeldschermen uitstralen. We gebruiken licht namelijk niet alleen maar om te zien, maar ook om onze biologische klok te regelen. Onze ogen bevatten namelijk speciale receptoren voor daglicht. Als die veel daglicht opvangen gaat er een signaal naar de hersenen dat het dag is en je wakker moet blijven. De productie van het slaaphormoon melatonine wordt dan geremd. Als het 's avonds donkerder wordt, maakt je lichaam wel melatonine aan en word je slaperig. Omdat daglicht veel blauw bevat, zijn deze daglichtreceptoren erg gevoelig voor blauw licht (en ook voor wit licht, want dat bevat alle kleuren). Het advies is daarom om je drie uur voordat je gaat slapen zo weinig mogelijk aan blauw licht bloot te stellen. Een goed idee dus, om dat blauwe licht 's avonds uit je scherm te filteren, zou je zeggen. 
Hoe onderzoek je het effect van een blauw-lichtfilter?
Voor het onderzoek dat hier besproken wordt, moesten 167 jongvolwassenen gedurende een normale week gaan slapen met een armband om die hun hartslag mat. Uit die hartslaggegevens kon worden opgemaakt hoe goed en lang de deelnemers sliepen.
De jongvolwassenen werden verdeeld over drie groepen. Eén groep gebruikte een uur voor het slapen een iPhone met blauw-lichtfilter, de tweede groep een iPhone zonder filter en de laatste gebruikte helemaal geen telefoon tijdens dat uur. Beide groepen die een telefoon gebruikten zetten deze op de laagst mogelijke helderheid. Een app werd gebruikt om het telefoongebruik te controleren. De groep die een blauw-lichtfilter gebruikte sliep niet duidelijk beter dan de groep die dat niet deed.
Een eerder onderzoek uit 2018 werd in een laboratoriumomgeving gedaan, waardoor de onderzoekers betere controle hadden over het experiment. Hieruit bleek dat een iPad op volle helderheid de aanmaak van het slaaphormoon melatonine remde (en dus het natuurlijke slaapritme kan verstoren), ook wanneer het blauw-lichtfilter aanstond.
Hoewel deze onderzoeken zich op Apple's night shift mode focusten zijn vergelijkbare resultaten te verwachten voor de vergelijkbare blauw-lichtfilters van andere producenten en voor andere apparaten.
Er speelt meer
Hoe kan het dan dat onderzoekers toch geen effect vonden wanneer een groep jongvolwassenen night shift, het blauw-lichtfilter op hun iPhone gebruikten? Dr. Ir. Luc Schlangen, onderzoeker aan de Technische Universiteit Eindhoven, kan meerdere oorzaken bedenken. 
 Ten eerste maakt de soort activiteit die je op je telefoon onderneemt veel uit. Gebruik je je telefoon om te ontspannen of is deze misschien wel een bron van stress? Zelf heeft Schlangen onderzoek gedaan waaruit blijkt dat je minder snel in slaap komt wanneer je 's avonds sociale media gebruikt op je telefoon. Maar hij ontdekte ook dat tv of series kijken op je telefoon je slaap juist kan bevorderen. Daarbij is het zo dat computers en telefoons soms verslavend kunnen zijn waardoor je simpelweg te laat gaat slapen. Op dit soort aspecten heeft een lichtfilter natuurlijk geen invloed.
Blauw licht heeft zeker ook een grote invloed op slaapkwaliteit, maar Schlangen plaatst de rol die beeldschermen daarin spelen in perspectief. Zo is de telefoon vrijwel nooit de enige lichtbron die je in de drie uur voor het slapen aan hebt staan. De lampen die 's avonds aanstaan zorgen vaak voor bijna evenveel of soms zelf meer activatie van je daglichtreceptoren dan je beeldscherm. Schlangen: 'Het heeft natuurlijke weinig zin om een night shift mode op je telefoon te gebruiken terwijl je gewoon je slaapkamerverlichting vol aan hebt.' Ook hier geldt dat een warmer, geelachtig licht minder slaap-verstorend werkt dan een even fel koeler, blauwachtig licht.
Maar niet alleen de hoeveelheid blauw licht die je 's avonds binnenkrijgt bepaalt hoe goed je slaapt. Ook de hoeveelheid licht die je overdag binnenkrijgt is van groot belang. Onze biologische klok is namelijk ook gevoelig voor het verschil in lichtintensiteit tussen dag en nacht. 'Door heel veel licht overdag wordt je wat resistenter tegen de slaap-verstorende werking van licht in de avond en de nacht', legt Schlangen uit. Als je werkplek overdag daarentegen vooral met elektrische lampen is verlicht is en je 's avonds met soortgelijke lampen Netflix zit te kijken, is het moeilijk voor je lichaam om te weten wanneer het nacht wordt.
'Maak ook eens een wandeling buiten overdag', adviseert Schlangen. Buitenlicht is overdag namelijk 10 tot 1000 keer sterker dan het veelal kunstmatig licht van lampen en schermen binnenshuis. De postbode of dakdekker heeft dus geluk, maar als je binnen moet zijn voor je werk, helpt het ook al om zo dicht mogelijk bij een raam aan de slag te gaan.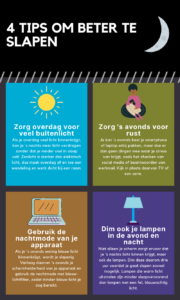 Een goede nachtrust
  Zijn blauw-lichtfilters zoals Apple's night shift dan helemaal zinloos? Schlangen denkt van niet: 'Het is verstandig om dat scherm te dimmen en minder blauwrijk te maken, maar je moet er niet te veel van verwachten.' Dim 's avonds ook het omgevingslicht, zorg overdag dat je genoeg daglicht ziet en onderneem voor je gaat slapen alleen maar ontspannende activiteiten. Als je dat allemaal doet kan het gebruik van een blauw-lichtfilter en het dimmen van de helderheid van je scherm de laatste stap naar een goede nachtrust zijn.
Wetenschappelijke literatuur over dit thema:
Het recente onderzoek naar het effect van de night shift mode op slaap:
Duraccio, K. M., Zaugg, K. K., Blackburn, R. C., & Jensen, C. D. (2021). Does iPhone night shift mitigate negative effects of smartphone use on sleep outcomes in emerging adults?. Sleep Health.
Link: https://doi.org/10.1016/j.sleh.2021.03.005
Het onderzoek naar het effect van de night shift mode op de aanmaak van melatonine:
Nagare, R., Plitnick, B., & Figueiro, M. (2019). Does the iPad Night Shift mode reduce melatonin suppression? Lighting Research & Technology, 51(3), 373–383.
Link: https://doi.org/10.1177/1477153517748189
Het onderzoek van Dr. Ir. Luc Schlangen en anderen over de invloed van rustgevend tegenover stressvol smartphone gebruik op slaap:
Huiberts, L.M.  Opperhuizen, A.L. & Schlangen, L.J.M. (2021) Pre-bedtime activities and light-emitting screen use in university students and their relationship with self-reported sleep duration and quality. Accepted on Oct 20th 2021  for publication in Lighting Research & Technology
link: https://doi.org/10.1177/14771535211057462
Twee artikelen over de invloed van licht tijdens dag en nacht op gezondheid en slaap:
Schlangen, L. J. M., & Price, L. L. A. (2021). The Lighting Environment, Its Metrology, and Non-visual Responses. Frontiers in Neurology, 12, 235.
Link: https://www.frontiersin.org/articles/10.3389/fneur.2021.624861/full
Brown, T.; Brainard, G.; Cajochen, C.; Czeisler, C.; Hanifin, J.; Lockley, S.; Lucas, R.; Munch, M.; O'Hagan, J.; Peirson, S.; Price, L.; Roenneberg, T.; Schlangen, L.; Skene, D.; Spitschan, M.; Vetter, C.; Zee, P.; Wright Jr., K. Recommendations for Healthy Daytime, Evening, and Night-Time Indoor Light Exposure. Preprints 2020, 2020120037